The human body consists of about 200 bones and about 600 muscles. 
Muscles have been of interest due to their role in forming a voluminous body, but recently their physiological mechanism of health management from the perspective of preventive and therapeutic medicine has made them important to middle-aged people. 
Muscle-related health factors are associated with vascular motility and circulatory coronary diseases, metabolic diseases related to metabolism, musculoskeletal diseases related to pain, and urogenital diseases. 
As people age, their muscle bulk and power decreases in a process called sarcopenia. 
There is a significant reduction of the type II muscle fibers that contract rapidly, and this decrease starts in the forties and continues to decrease 10~15% every 10 years up to the seventies, and speeds up to 25~40% after the seventies. 
Sarcopenia is also deeply associated with frailty syndrome and is the trigger of various diseases other than just muscle bulk and power loss, which has led it to be registered as a disease code in the Centers for Disease Control and Prevention (CDC) in October 2016.   
​
As muscle bulk decreases, fat cells are accumulated surrounding the muscle cells and in between muscle fibers, which secrete pre-inflammatory substances. 
These substances travel around the vessels to antagonize and destroy vascular walls, which can then lead to thromboses that damage the heart and brain. 
According to Chin et al. in 2013, sarcopenic individuals over 65 years of age had a 75% increased risk of developing cardiovascular diseases. (Figures 1-1 and 1-2) 
​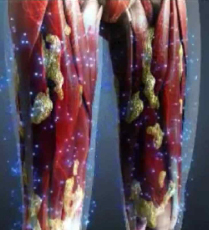 *Accumulations of fat cells and secretion of pre-inflammatory substances due to sarcopenia
​

*Intravascular accumulation of pre-inflammatory substances 
​ 
The increase in muscle bulk and power is not only related to body form, but also its important physiological role, and electrical stimulation of the muscles results in not only increased muscle contractions and power, but also various clinical manifestations such as increased circulation, decreased edema and pain, and muscle relaxation. 
Muscle activity is important for maintaining or increasing muscle mass. 
Muscle activity increases muscle mass by repeatedly causing slight damage to the muscles, which then restore themselves. 
By exercising regularly 3-4 times a week, your muscles are strengthened. 
However, to prevent injuries, people over 50 years of age are advised to lower the intensity of their muscle activity and also to do aerobic exercise, such as walking or swimming. 
They should aim to steadily increase their muscular strength and not exercise excessively. 
It may be effective to utilize appropriate equipment that can assist with muscle activity.
However, exercise alone is not enough to maintain and strengthen muscles – continuous protein intake is a must. 
It is essential to ingest quality protein, such as beans, tofu, lean meat, fish and eggs. 
However, protein supplements can potentially put a strain on the liver, so protein should come from food whenever possible.
A deficiency of vitamin D, which plays an important role in building muscle, leads to a decrease in muscle strength, regular exhaustion and muscular pain. 
For vitamin D to be naturally synthesized in the body, you should get at least 20 minutes of sunlight a day and eat foods that are rich in vitamin D, such as cheese, milk, margarine, butter, and salmon.

Good health is an absolute requirement for a happy old age. 
In particular, moving with your own strength is an important factor for determining quality of life. 
If the loss of muscle mass can be prevented through consistent health management, then an energetic third act waits. 
Academic Materials  
- Eun Hye Kim, Seon Mee Kim, Sarcopenia of the Old Age, Korean J Clin Geri. 2015; 16 (1): 1-7.
- Tae-yeol Kim et al, Clinical Electrophysiology, E*Public 2009.
- Jae-Hyeong Lee, Electrical Therapy, Daihaks publishing, 2008
- Sangmo Hong and Woong Hwan Cho, Clinical and Physiopathologcial Mechanism of Sarcopenia, Korean Journal of Medicine, 2012; 83 (4): 444-454.